Good morning. We are remembering Tusk V, the live mascot of the Arkansas Razorbacks, who passed away this past Sunday at his home outside of Dardanelle. Tusk V died of natural causes and was laid to rest on the Stokes Family farm.
If you would like to contribute to the live mascot program in Tusk V's memory, you can send a donation here.



We're only a day away. Tomorrow is the FREE live-stream of the next episode of 100 Seasons of Razorback Basketball. What better time to watch the first episode on Hogs+ and take a deep look into the foundations of the Razorback basketball program—from Smitty's Barn through the era of Eddie Sutton and The Triplets? Featuring interviews with Tom Boyer, Sidney Moncrief, Ron Brewer, Jim Counce, Joe Kleine, Rick Schaeffer, Matt Zimmerman, Frank Broyles



> RECORD RECOGNITION. In the 14 months Britton Wilson has been with Arkansas track and field, she's set 11 school records. She basically has a monthly quota for rewriting the record books!
Britton was named the women's National Athlete of the Week by the USTFCCCA following her collegiate record-breaking performance in the 600m at the Arkansas Invitational. Her time of 1:25.16 now ranks No. 7 on the U.S. all-time list and No. 10 on the world all-time list.


> EIGHT IS GREAT. The D1Baseball and D1Softball preseason top 25 rankings have dropped, and Arkansas baseball and softball find themselves at the same spot. Both programs took the No. 8 ranking in the respective preseason polls.
D1Baseball becomes the third major preseason poll to rank the Razorbacks in the top 10. This is also the second-straight season the Hog softball team is ranked in the 8th spot to start the season by D1Softball.
> FEET DON'T FAIL HIM NOW. In the immediate aftermath of Makayla Daniels' buzzer beater Monday evening, Arkansas cameraman Noah Southard went viral for his incredible hustle, and not so graceful balance.
Southard charged the court from the baseline to get the celebration shot after Daniels' 40-footer banked into the net, and proceeded to take a tumble right in the center of the broadcast. It was his quick recovery back to his feet that allowed him to get his camera back on the cheering Razorbacks. Even head coach Mike Neighbors had to recognize the athleticism that took.
We're all glad you're okay Noah, and great job getting the shot!
> SAILING UP. All Saylor Poffenbarger needs is one game to reign supreme over all first-year SEC players. Saylor earned her FIFTH SEC Freshman of the Week honor this week for scoring 13 points and registering five rebounds during the Hogs' victory over Vanderbilt. She now has the most SEC Freshman of the Week titles in Arkansas women's basketball program history, and we're not betting against her getting another one here shortly.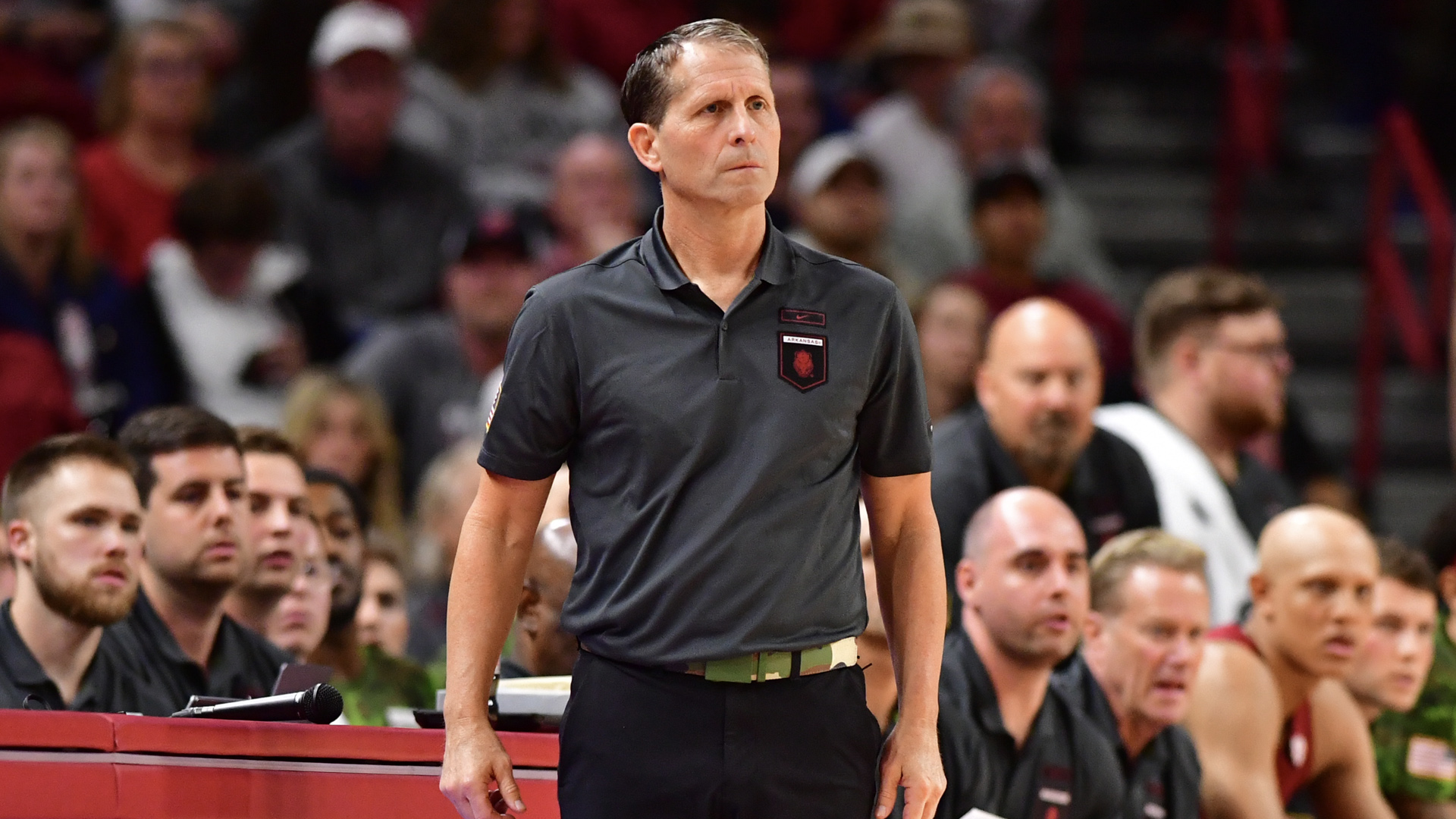 > BAGS STAY PACKED. Call 'em the RoadHogs, because they stay traveling. No. 25 Arkansas men's basketball is at Missouri tonight for the 60th all-time meeting between the two programs. Arkansas has won six of its last seven games against Mizzou, including a 74-68 win two weeks ago inside Bud Walton Arena, when the Hogs erased a 17-point deficit to finish the game.
Hear head coach Eric Musselman preview tonight's game, and catch the 8pm tip-off on SEC Network.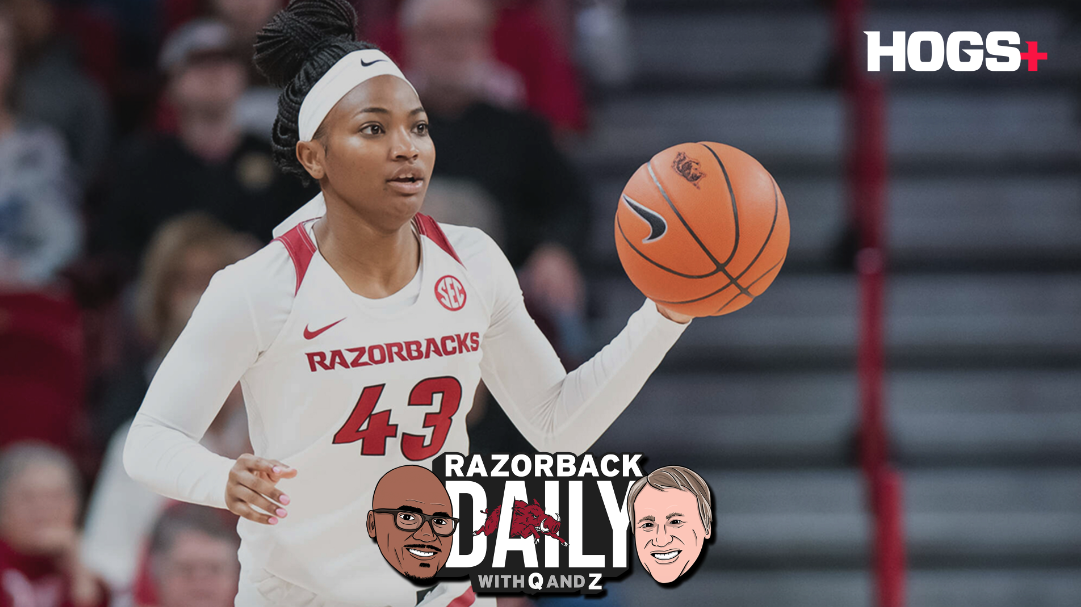 A hero's tale. After her buzzer-beating heroics against Vanderbilt, Q and Z are catching up with Hog senior Makayla Daniels to talk about THAT shot and more. And stick around for a preview of tonight's rematch against Mizzou.
Listen on Apple Podcasts >>>
Listen on Spotify >>>
Watch on Hogs+ >>>



Did someone send you the Razorback Brew? Get it in your inbox every weekday morning just in time for your first cup of coffee!
Click here to subscribe to The Razorback Brew >>>



Wednesday 1/18
Men's Basketball at Missouri @ 8:00pm on SEC Network
Thursday 1/19:
100 Seasons of Arkansas Basketball: Part 2 @ 7:00pm on Hogs+
Women's Basketball at LSU @ 8:00pm on SEC Network
Friday 1/20:
Men's Tennis vs. Wichita State @ 12:00pm
Men's Tennis vs. Lamar @ 4:00pm
Swimming and Diving vs. Kansas @ 5:00pm
Gymnastics at Auburn @ 7:30pm
Saturday 1/21:
Swimming and diving vs. Kansas @ 10:00am
Men's Basketball vs. Ole Miss @ 11:00am on ESPN2
Women's Tennis vs. Arkansas State @ 11:00am
Women's Tennis vs. Arkansas State @ 4:00pm
Women's Track and Field at Battle in Beantown
Sunday 1/22:
Women's Basketball at South Carolina @ 2:00pm on ESPN2
Was this email forwarded to you? Sign up here.
University of Arkansas 2023. All Rights Reserved.
Return back to nfl
Return back to Home